Author of the Clara Pascal, Rickman & Foster, and Rowan & Palmer series
Hello, and thanks for dropping by!
I write psychological novels, most of which have been published worldwide. Just out from Joffe Books is See Her Burn, the first in the Rickman & Foster series, which is set in my home town of Liverpool. The first of two brand new novels is also out this month. Before He Kills Again pairs investigative duo Detective Cassie Rowan, and psychotherapist, Alan Palmer. It's had a long journey to publication, and I'm very excited to share it with you!  My novels have been shortlisted for the 'First Blood' critics award and CWA Dagger in the Library, and I am a CWA Short Story Dagger and Red Herring award winner. Feel free to explore – and do keep in touch via the contacts page, or social media. Don't be shy – I love to hear from readers!
14/11/2020 @ 1:00 pm - 5:40 pm - Perfect Crime is the first crime writing festival set in the heart of Liverpool. Due to COVID-19 our 2020 live event has had to be postponed until 2021 but we are pleased to announce our free online...
Read More
Her Husband's Killer DID SHE OR DIDN'T SHE? She'd planned the perfect murder of her husband so many times. And now he's dead. But did she really kill him? Dr Helen Wilkinson stands over the body of her husband, Edward. It's just as she'd imagined it so many times before. He...
READ MORE >
Dear Mum Shortlisted for the First Blood Award. A Sunday Times 'Christmas Cracker' "A story of searing suspense and terror . . . thoroughly engrossing and one of the best books of the year. Read it." Tangled Web A MOTHER'S WORST NIGHTMARE — JUST GOT WORSE It's been six months since...
READ MORE >
See Her Die (Detective Jeff Rickman book 2) A WOMAN VANISHES BUT DID SHE EVER EXIST? Megan Ward goes missing and suspicion falls on the stalker seen outside her house. Detective Jeff Rickman is brought in to investigate – it should be a simple missing person case. Megan Ward is a...
READ MORE >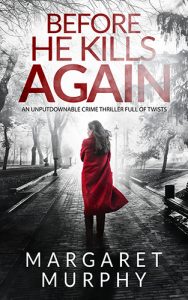 Before He Kills Again (Detective Cassie Rowan book 1) "Pace, taut plotting and great characterisation from the first page. Add humour and some wonderful one liners and you have a popular novel with depth." —Sunday Times bestseller Ann Cleeves CAN CASSIE STOP A SERIAL PREDATOR BEFORE HE KILLS AGAIN? A serial predator stalks the...
READ MORE >
See Her Burn (Detective Jeff Rickman Book 1) A woman's body is found stuffed inside a wheelie bin. Naked. Drained of blood. Thrown out like trash. Detective Jeff Rickman is on the case. Within hours, the police have their prime suspect. And it's Rickman himself. Elsewhere, a cruel prank ends with four...
READ MORE >
Darkness Falls CLARA PASCAL HAS IT ALL She's beautiful, successful and a devoted mother. People want to be her. THEN IT'S SNATCHED AWAY Now, robbed of everything that gives her life meaning, she lies chained to the stone wall of a dark cellar – without food, warmth, or sleep, without even the...
READ MORE >
Weaving Shadows Amy Dennis is beaten to death with a hammer in her own home. Her baby is asleep upstairs. A custody battle now rages between Amy's family and the baby's father, a married man. A CASE CLARA CAN'T REFUSE Clara Pascal is struggling to put her life back together after...
READ MORE >
Stay up to date by e-mail with information about events and new books.