Shelf Indulgence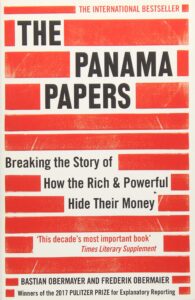 This book was a research project for my crime novel, Dead Man Walking, and was never intended to be a prospective Shelf Indulgence review target. But the content, and the way that the story is unfolded by these two German journalists reads like a heart-stopping financial thriller. A central plot element in Dead Man Walking relies on the courageous, mind-blowing work of Obermayer and Obermaier and the anonymous informant who blew the worldwide use and abuse of the shadow economy wide open.
In early 2015, an anonymous whistle-blower led investigative journalists Bastian Obermayer and Frederik Obermaier into the shadow economy where the super-rich hide billions of dollars in complex financial networks. In a ground-breaking investigation that saw an international team of 400 journalists worldwide work in secret for a year, they uncovered cases involving heads of state, politicians, businessmen, big banks, the mafia, diamond miners, art dealers and celebrities.
It all began with an email: 'Hello. This is John Doe. Interested in data?' What followed was a gripping real-life thriller worthy of Hollywood.
The breathtaking abuses of power revealed by the journalists in millions of leaked documents cited money laundering, tax evasion, anonymous trusts and fake 'donations' as well as misappropriation of public funds on a spectacular scale. Mugabe, Gaddafi, Putin and Assad were among thousands of other super-rich individuals implicated in schemes which saw billions of dollars funnelled through shell companies and fake 'nominee directors'. Politicians were involved, heads of state indicted. Governments fell.
Why is this book still important, eight years on? Because although tax enforcement has been tightened, of the countries identified as participants, only ten percent of the public officials lost office. The British Virgin Islands, Jersey and Guernsey – all named as important to this shadow economy in The Panama Papers – continued their activities to the extent that in 2019 the Tax Justice Network named them as among the worst tax havens in the world. Yet it wasn't until January 2021 that MEPs added them to the tax haven blacklist.
The Panama Papers won the 2017 Pulitzer Prize for Explanatory Reporting.
Order Dead Man Walking, by M.K. Murphy
More info on Dead Man Walking